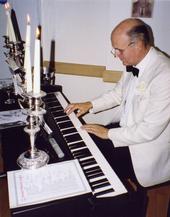 Playing my

Roland Digital Concert Piano
with added

CANDLEABRA

[THIS IS A NOTICE FROM A RECENT WEDDING FAIR AT GLEMHAM HALL >>>]
I AM PLAYING A ROLAND DIGITAL PIANO
I USUALLY PLAY THE 1910 BLÜTHNER GRAND IN THIS HALL
THIS IS TO DEMONSTRATE THAT IT IS POSSIBLE TO HAVE A TOP QUALITY PIANO SOUND ANYWHERE
AT ANY TIME ... AND I SUPPLY MY OWN PIANO

SOMETIMES I PLAY IN THE CELLARS UNDER THIS HALL
SOMETIMES IN THE MARQUEE
OR IN THE GARDENS

OR ANYWHERE IN THE COUNTRY
INDOORS OR OUT ... A [QUIET] GENERATOR IS AVAILABLE TOO FOR
REMOTE LOCATIONS

FOR ANY SORT/SIZE OF GATHERING
WESBSITE .... www.nickraison.co.uk
Music is taken from the
Ragtime era
through the 1920's, 30's, 40's…
to post war songs and musicals.
Composers/lyricists include:- George Gershwin, Cole Porter, Fats Waller, Harold Arlen, Jerome Kern, Irving Berlin, Ivor Novello, Hoagy Carmichael, Richard Rodgers, Julian Slade, Frederick Lowe, Lorenz Hart,
Michael Flanders/Donald Swann et al.
...UP TO FIVE HOURS PLAYING IN

ANY ONE DAY ... SO TWO DIFFERENT

FUNCTIONS ARE POSSIBLE!!!!!
East Anglia - London - Kent - Cambridge - Essex - Norfolk - etc
more on next page ... see 'Navigation' at the top of this page