YOU CAN FIND AN AUTO-ENQUIRY/REPLY FORM ON PAGE 4 TO GET IN TOUCH!

Calendar 2020/2021...
email: info@nickraison.co.uk
mob: 07759 482207
I PROVIDE MY OWN A PIANO!!
...... some Private functions are NOT listed by request ......
I prefer to provide my own Digital Concert Piano ... that way I can be located anywhere at any [...indoor or outdoor...] venue and with a guaranteed, top-quality, full grand-piano sound.
I have long power leads ... or access to a generator if needed .....

I AM SOMETIMES ABLE TO FIT IN 2 DIFFERENT EVENTS IN A DAY ... SO PLEASE ASK ...
[IT DEPENDS ON TIMES & DISTANCES] EVEN IF IT LOOKS LIKE I'M ALREADY BOOKED
... up to 5 hrs playing in a day ...
Every listing marked ... "TBC"

... means

"To Be Confirmed"


Every listing marked ...
">>"
... means "public welcome"
Every listing highlighted in

YELLOW

.... sadly cancelled


2021
May 30th

Thur Grand Suffolk Garden Tour [Pvt] Dinner Wentorth Hotel
[This Tour & Dinner .... postponed till June 3rd 2022 ... see below!]

May 14th Fri/2.30pm Golden Oldies Music [+ VE Day] at Grove Court, Woodbridge


June 21st Mon Suffolk Day Celebration at Grove Court, Woodbridge


MORE 2021 TO FOLLOW >>>>>>>>>>>>>>> SOON
2022

June 3rd Thur Suffolk Garden Tour Celebration Dinner Wentworth Hotel

*************
************
http// WWW.NICKRAISON.CO.UK NICK RAISON is a highly experienced solo performer and accompanist with a repertoire mainly from "The Great American Songbook" era from the 1920, 30's, 40's's ... and slowing down just BEFORE Rock 'n Roll/Skiffle etc. He has a huge variety of tunes which can be played (... repetitions by request only) for up to 5 hours at a time. His style is 'free and easy' with a hint of "Charlie Kunz", "Hutch" [without the voice!] and "Carroll Gibbons". For Cocktail Piano Music and Ambient Music he plays working around a song-list of about 750+ song titles. The total repertoire extends well beyond this. If specific songs are requested for special occasions (eg bride's entrance, birthdays, wakes etc) these can often be included … with enough warning . He plays at about 100+ widely varied 'gigs' per year. www.nickraison.co.uk
BELOW .... AT A PRIVATE DINNER PARTY
long ago ....
PRINCESS MARGARET
+ FAMOUS GROUSE
AND
'LET'S DO IT' by COLE PORTER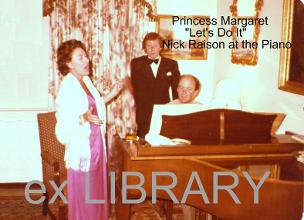 COCKTAIL PIANIST...FOR...

Wedding Receptions, Drinks Parties, Dinners, Banquets, Cocktail Parties, Birthdays, Funerals/Wakes, Conferences/ Business/Corporate Functions, Tea Parties, Public Functions, Private Parties ....... or just for the pleasure of soirées musicales/thé dansant and the music of a Golden Era for composers and lyricists.
Perfect, too, for your sitting-room or dining room or ballroom perhaps? Recently I have performed in a passageway and a summer-house/posh-garden-shed and in various Livery Halls in the City and among the beach-huts at Southwold and on a lake island!
I HAVE A HIGH-QUALITY DIGITAL PIANO WITH A REAL CONCERT GRAND TONE. EXCELLENT FOR INDOORS, HALL, MARQUEE,OPEN-AIR, ETC. POWERFUL OR quiet
For more information, cost etc ...
please email & I will reply with an appropriate attachment
(It would be useful to know your venue/date/time ... so that I can check my availability):-
Email info@nickraison.co.uk
or Google "nick raison" and follow various links.

RECOMMENDATIONS .... WHO I WORK WITH :-
http://www.thecrownatwoodbridge.co.uk

www.thorpeness.co.uk
http://www.wentworth-aldeburgh.com

www.butleypriory.co.uk
www.gelmhamhall.co.uk
www.sabrinadecarvalho.com
www.mrtimsaxophone
www.garretthouse.co.uk
www.efhl.co.uk/locations/suffolk-woodbridge
www.uffordpark.co.uk
www.hintleshamhall.co.uk
...AND MANY MORE LINKS BY GOOGLING "nick raison" (with the inverted commas) ....

.... and click on 'IMAGES' too!

If you supply your postal address, I will try to catch the post 1st class within 24 hours with the details.more on the next page
... see 'Navigation' at top of this page
NICK RAISON ... at the Piano
to be found ... on-stage + gardens + tents + churches
+ fields + roof-tops + boudoirs + hallways + clubs + dining-rooms + gardens + trailers +
marquees + concert halls + sitting-rooms + pubs
+ passages + streets + cellars + riverboats + front parlours + balconies + town squares + hotels + galleries etc + beaches etc
[.... these are all genuine locations where I have played ...]