Calendar 2019/2020...
email: info@nickraison.co.uk
Landline/Callminder 01394 450494
...... some Private functions are NOT listed by request ......
I prefer to provide my own Digital Concert Piano ... that way I can be located anywhere at any venue and with a guaranteed, top-quality, full grand-piano sound.
I have long power leads ... or access to a generator if needed .....

I AM SOMETIMES ABLE TO FIT IN 2 DIFFERENT EVENTS IN A DAY ... SO PLEASE ASK ...
[IT DEPENDS ON TIMES & DISTANCES] EVEN IF IT LOOKS LIKE I'M ALREADY BOOKED
... up to 5 hrs playing in a day ...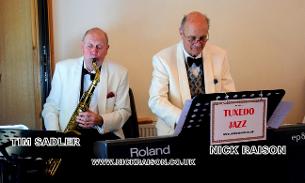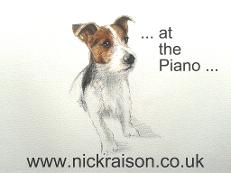 ... providing The Great American Songbook tunes from 1930's-40's [Tim Sadler ... sax]
... from a watercolour portrait by
Nick Raison
[see www.nickraisonartist@yolasite.com ]
*************************

2019
Every listing marked ... "TBC"

... means "To Be Confirmed"
Every listing marked ...
">>"
... means "public welcome"
>>May 1st Wed/pm Private Thé Chansons Aldeburgh


>>May 15th Wed Buffet Supper ..... with Piano Aldeburgh
May 17th-20th UNAVAILABLE Family Wedding
May 23rd Thu Tea-time Piano Grove Court Woodbridge
from about 2.45pm

>>May 26th Sun Village Church Service 10.30am Orford
[Nick Raison at the new Collins Organ, Orford Church]
>>May 29th Wed/pm Private Thé Chansons Aldeburgh


>>May 30th Thu/2pm Forget-me-Nots Lunch Framlingham TBC


June 10th Mon/1.30pm New Horizons "Tea Dance" Woodbridge

>>June 19th Wed Buffet Supper ..... with Piano Aldeburgh


June 20th Thu/pm Tea-time Piano Grove Court Woodbridge
from about 2.45pm

>>June 23rd Sun Village Church Service 10.30am Orford


>>June 27th Thu/2pm Forget-me-Nots Lunch Framlingham TBC

June 29th Sat/7-9.30pm Drinks Party Accompaniment at Hoo
>>July 3rd Wed/pm Private Thé Chansons Aldeburgh

>>July 17th Wed Buffet Supper ..... with Piano Aldeburgh

July 18th Thu/pm Tea-time Piano Grove Court Woodbridge


>>July 25th 28th Thu/2pm Forget-me-Nots Lunch Framlingham TBC

>>July 28th Sun Village Church Service 10.30am Orford

[Nick Raison; organ]

>>July 31st Wed/pm Private Thé Chansons Aldeburgh

August 8th Thur/1.30pm New Horizons "Tea Dance" Woodbridge


August 10th Sat Coldstream Guards Seniors Party Bealings
..... with Tuxedo Jazz

>>August 14th Wed Buffet Supper ..... with Piano Aldeburgh

August 15th Thu Tea-time Piano Grove Court Woodbridge from about 2.45pm
>>August 25th Sun Village Church Service 10.30am Orford
[Nick Raison; organ]

>>August 29th Thu/2pm Forget-me-Nots Lunch Framlingham TBC


>>September 2nd Wed/pm Private Thé Chansons Aldeburgh


>>September 6th Fri 7.30-9.30m Dining Room / piano Ufford Park
http://www.uffordpark.co.uk/food

>>September 14th Sat/pm"Turn2Us.com" Tea Party Grove Court
... fundraising for www.turn2us.com ...

>>September 15th Sun Private Birthday Party Laxfield TBC


>>September 18th Wed Buffet Supper ..... with Piano Aldeburgh

September 19th Thu Tea-time Piano Grove Court Woodbridge from about 2.45pm
>>September 22nd Sun Village Church Service 10.30am Orford [Nick Raison; organ]

>>September 26th Thu/2pm Forget-me-Nots Lunch Framlingham TBC


>>October 2nd Wed/pm Private Thé Chansons Aldeburgh


>>October 16th Wed Buffet Supper ..... with Piano Aldeburgh

October 17th Thu Tea-time Piano Grove Court Woodbridge from about 2.45pm
October 26th Sat Laying-up Supper Aldeburgh Yacht Club TBC

>>October 27th Sun Village Church Service 10.30am Orford
[Nick Raison; organ]

>>October 30th Wed/pm Private Thé Chansons Aldeburgh


>>September 26th Thu/2pm Forget-me-Nots Lunch Framlingham TBC


>>November 20th Wed/5.30pm Buffet Supper ..... with Piano Aldeburgh

November 21st Thu Tea-time Piano Grove Court Woodbridge from about 2.45pm
>>November 24th Sun Village Church Service 10.30am Orford
[Nick Raison; organ]